Where it all started…
A while back we introduced Isabelle & Charlie via their wonderful engagement session at Lake Lanier. You might recall their PineIsle Pointe shoot included a labradoodle, a romp through the high grass fields and shoreline stroll that ultimately ended up in the water. Now we get a chance to share the other side of their journey as a couple. The wedding!

It was a perfect October day in Georgia. Not too cold, but just right for tying the knot. Isabelle & Charlie had just recently purchased a home at a country club. But not just any country club; it was TPC Sugarloaf!

Golfers in the South will immediately recognize that name. It has long been a prized member of the PGA TOUR's acclaimed TPC Network of premier clubs. Designed by the Australian professional golfer Greg Norman and situated on 1,200 acres of Georgia's countryside; it's first class all the way. So a portion of their lovely 60,000 square-foot clubhouse would serve as the setting for both their ceremony and reception.
The day begins
As usual our storytelling style of coverage begins with the getting ready portion of the day. Isabelle chose to get ready at the clubhouse while Charlie hosted his buddies at their house. Since they had just recently purchased the house, they didn't have much furniture. However one key piece was their gorgeous grand piano in the center of the house against a huge wall of windows. Charlie actually had a little extra time on his hands to play a little bit. Meanwhile Isabelle was going through her hair and makeup session as she was surrounded by loved ones. Once they were ready we moved right in to the couple's first look in the center courtyard; next to Charlie's favorite red Japanese maple where he stood patiently as she made her approach. After a few minutes of privacy we jumped into their bridal portraits, which included shots by the garden and a gigantic oak tree.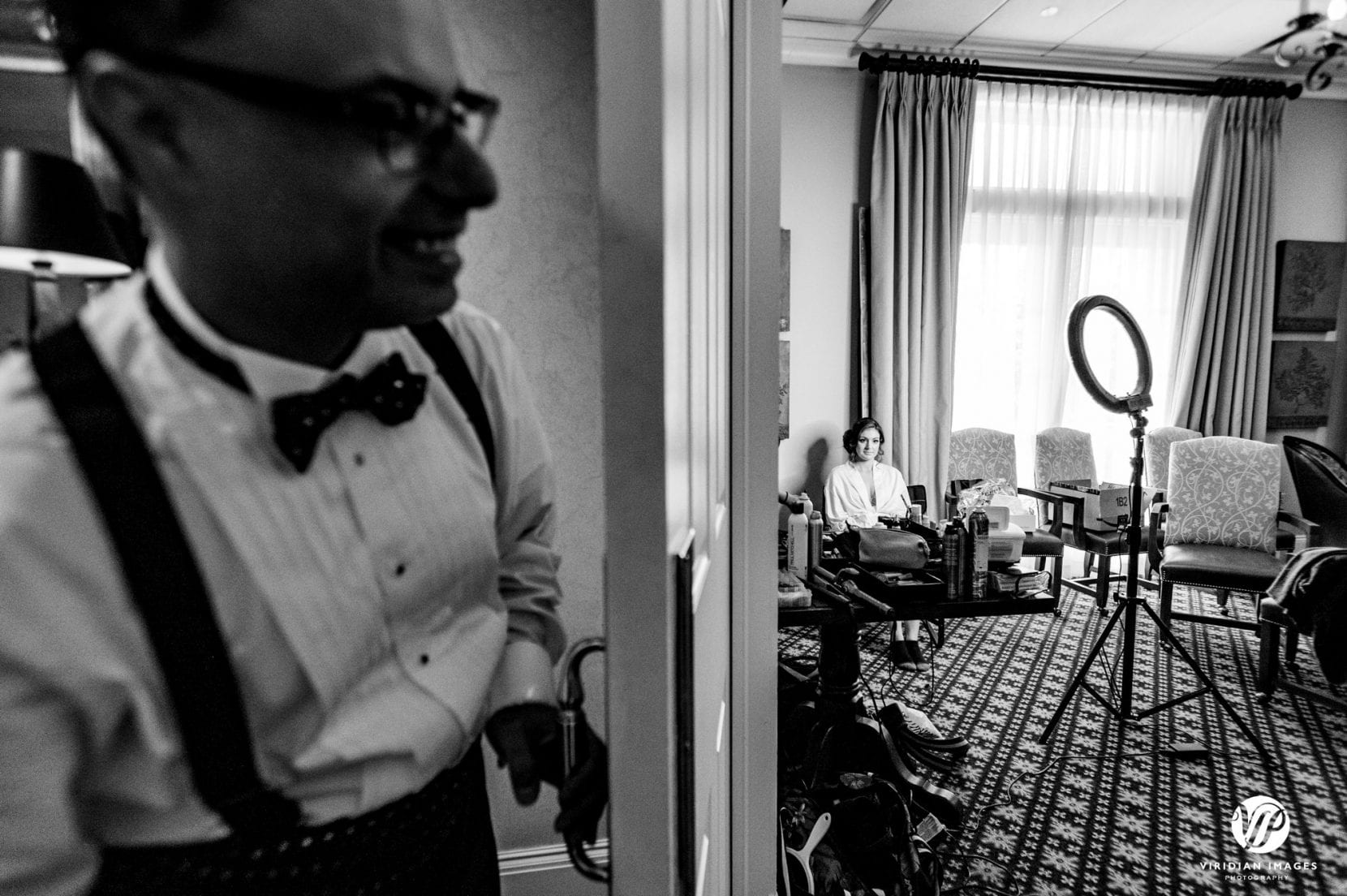 First look in the courtyard
Let the ceremony begin
The spot for the wedding was actually situated just outside the clubhouse on a perfectly manicured lawn with a trellis that overlooked the lake and the golf course. The ceremony was a simple but relaxed affair with a nice soft breeze comforting the couple as they exchanged their vows. After a few moments to greet family and friends we took them right back out for some additional portraits with the tall feather grass gardens by the lake.
A few more bridal portraits during cocktail hour
It's time to get this party started
Finally the reception arrived. It was brisk and to the point. Introductions, the first dance and their cake cutting. All designed get to the most important portion of the evening, dinner and some fun on the dance floor. The night concluded with a fantastic sparkler exit.
Let them eat cake
Time for farewell to our lovely couple
All throughout this journey we had a great time getting to know Isabelle and Charlie and we are truly grateful to have been chosen to document this time in their life. We can't wait to see how they continue to grow as a family in the future!
The team that made this wedding the fabulous event it was:
Venue coordination by: Elizabeth Smith — TPC Sugarloaf
Awesome catering and venue: TPC Sugarloaf
Amazing hair artist: Veronica Sitterding
Fabulous make up artist: Veronica Sitterding
Wedding gown custom design by: Calla Bridal
Brides maids gowns: BHLDN, Tinsley Dress in rose Quartz
The dapper groom and groomsmen tuxedos: Guffey's of Atlanta
Flower and furnishing arrangements by: Holland Daze
Decor rentals: sourced through Miss Milly's
Dinnerware rentals: We Rent Atlanta
Cake so good you have to have a second piece by: Confection Perfection
Making it all legal: Dr. Lee Mabry, Sensational Ceremonies
Videographer: Petit Four Films
Rocking the hits with: SE Events Spectrum